---
Taking A Trip Without Leaving Your Front Door
How the pandemic created space for bookworms across the world to rediscover their love of reading and find solace in other "worlds" without leaving their homes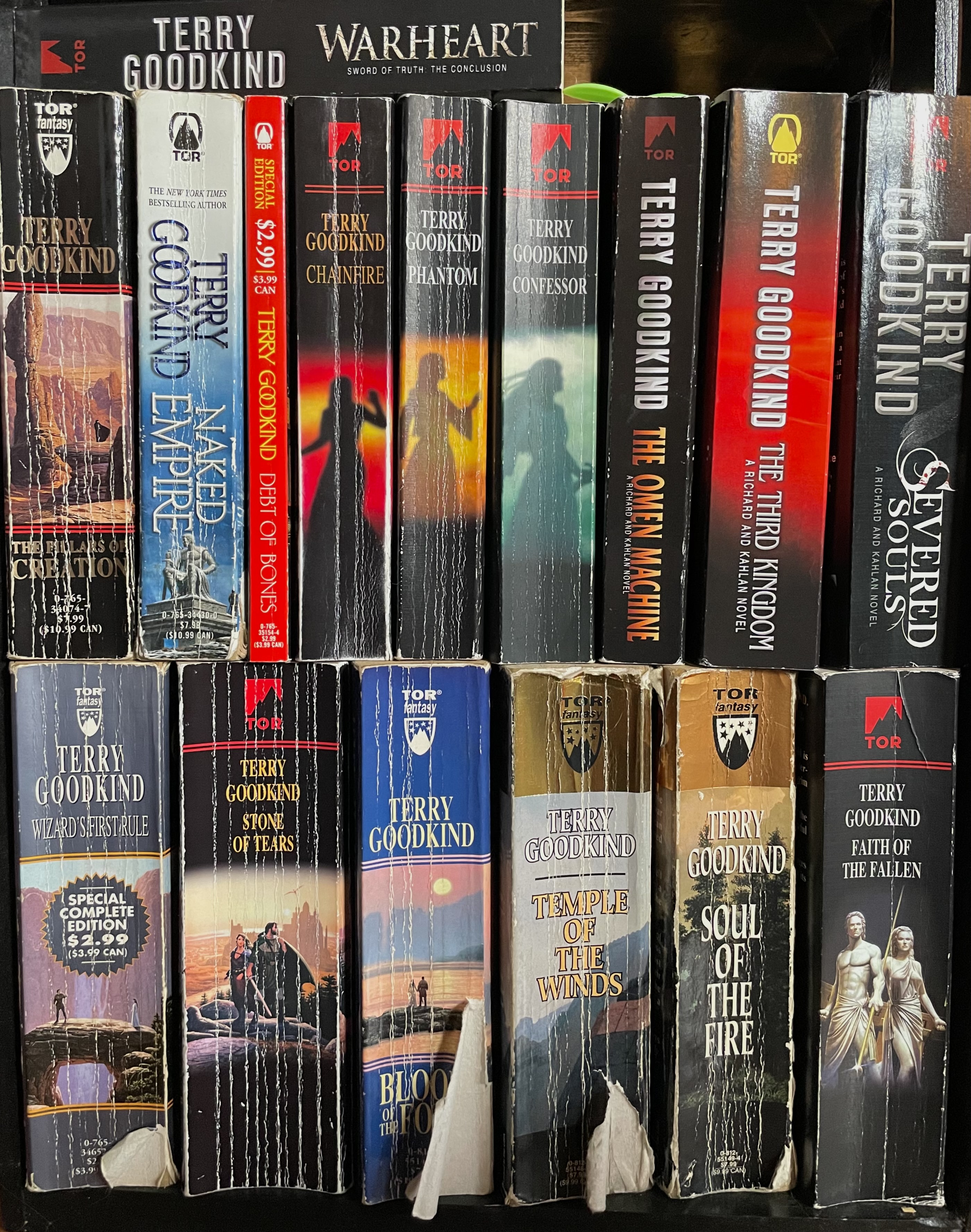 The author's quarantine bookshelf. Skyla Patton, 2022


By Skyla Patton

Apr. 15, 2022
I grew up as a self-described bookworm: swallowing novel after novel throughout primary school, inhaling both the fictitious and all-too-real worlds trapped inside those delicate pages as quickly as I could get my hands on them.
A favorite of the time was the long-winded Sword of Truth series, written by famed fantasy writer Terry Goodkind. There are 22 books total in the series, each a hearty two inches or so in thickness, exceptionally satisfying to hold in your hand. At 13, I only made it about half way through before drifting my attention elsewhere.
Not anymore. Over the course of a few months of lockdown, I recollected and subsequently powered through all 22 books in the series without any other literary distraction: 9,588 pages in total. It was, in short, awesome.
Throughout the pandemic, I had a lot of free time. A lot of us did. And thus, we began to seek out things to occupy that free space. For me, it was rekindling my long lost relationship with books. I devoured the Goodkind series with more fervor than the first time, and didn't stop there: I tore through my childhood bookshelf, raided Barnes and Nobles bestsellers and spent hours pouring through thrift store literature.
I was not alone in this great venture to reconnect with our inner bookworms. A study produced by
Global English Editing
, an online proofreading service, found that Americans alone read recreationally (as in, not for academia or work purposes) 35% more in 2020 than previous years, and 25% more than that in 2021.
Rhiannon Palmer, a paralegal based in Chicago, IL., reconnected with her love of fiction books during quarantine through online communities like Discord and TikTok.
"I was a huge reader when I was younger, and then that just fell off when I got older and started reading for school. My partner and I were looking for something to do during lockdown and we decided to reread the Harry Potter books," said Palmer. "We finished that entire series in less than two months. So when I found the Discord group and it was full of people who were getting back into reading too I was like, oh, this is perfect."
Discord is an online messaging server that connects people through video and voice messaging in chat rooms called "servers," boasting up to
14 million users
online per day. Palmer and I met via a Facebook group where we connected over the book recommendations we had discovered during quarantine.
Palmer said she's gotten a ton of great book recommendations from the Discord server, which she references as a "book club," as well as participating in the occasional reading challenge or jumping in to contribute her own suggestions. Besides just rediscovering her love of reading, Palmer said developing a habit of reading again has contributed positively to her mental health over the pandemic, and helped with feelings of isolation.
"Starting a new book really is like being transported to a new world," said Palmer, who said she likes to envision herself as the main character in each storyline. "When I'm reading, I'm not in control, the story is, and I don't have to make decisions, I just get to go along for the ride. And that's exactly what I need right now. It's the perfect kind of escapism."
I remembered the way it felt to be transported by a good book as a young person—the ability the stories had to truly take your mind into another time, a different existence—and even if just for a brief moment, become wrapped in the comfort and respite of taking a break from your own world. It was
On days where the craving to escape the four walls of home became almost insatiable, I found the breath of fresh, unadulterated air that I needed in the pages on my bookshelves, and swallowed it in gasps. The ink-laden pages of books both new and old reminded people like Palmer and myself that in a time of such uncertainty and darkness, there will always be places to seek out light, and more simply, people to bask with in that light.