---
Gun Sales Boom Spark Ammo Shortage
What's behind the empty shelves at gun shops?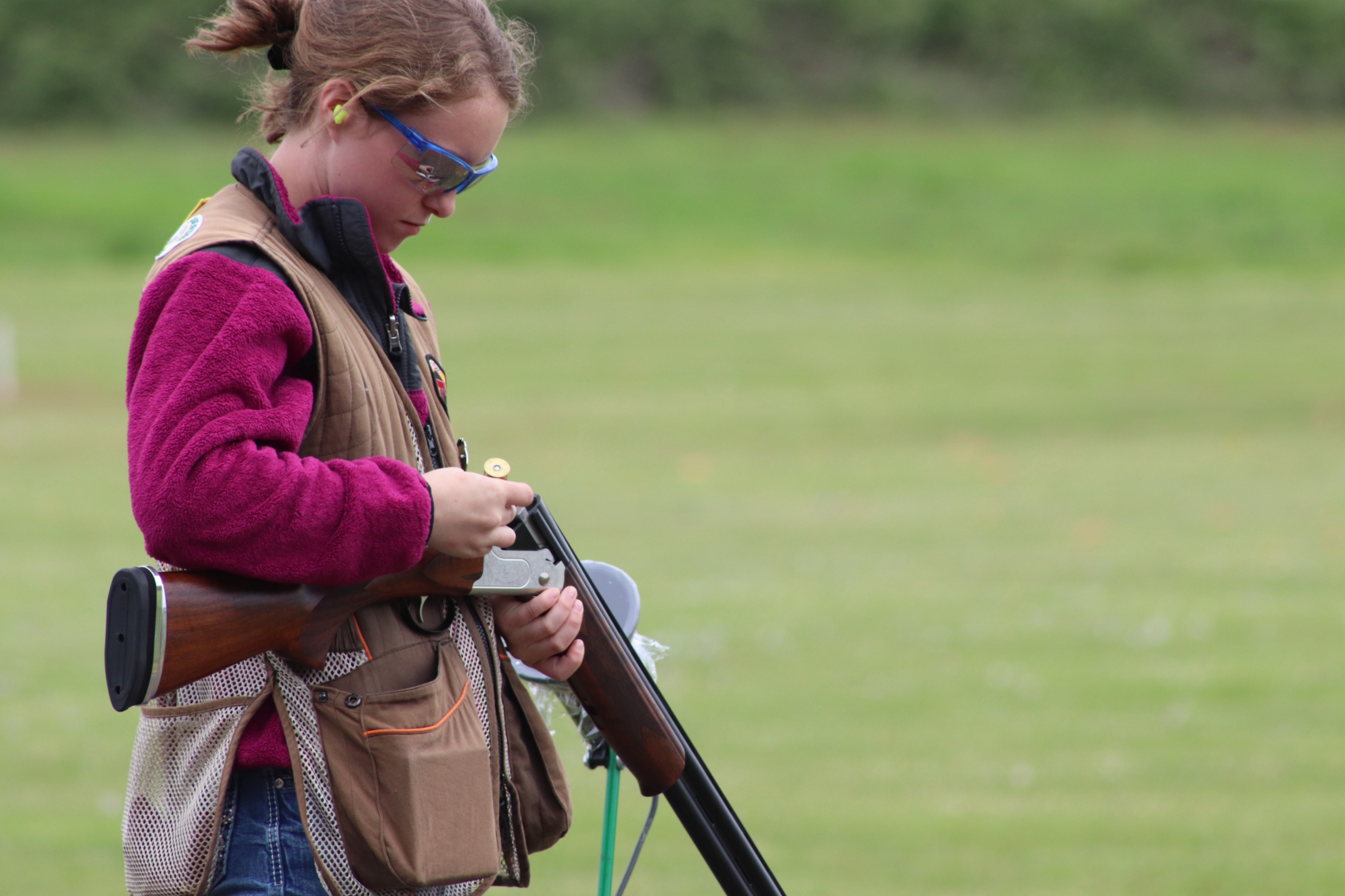 Wearing blue plastic safety glasses and neon yellow ear plugs, short brown hair pulled back from her teenage face, Vivian Seaholm hefted her shotgun and cracked open the breach. Standing five feet tall, her 28-inch barrel Savage Arms 555E over/under has a specially shortened stock to fit.
Stepping to the firing line, Seaholm reached into her khaki shooting vest for a fresh, red 12-gauge shell and slid it into the shotgun, focusing on the low-framed cement trap house in front of her. Bright orange clay pigeons would soon be flying from that little coop. She'll shoulder the shotgun, swing it past the target, and squeeze the trigger, hoping to see the clay disc burst into dust at around 30 yards distance.
Experts say booming firearm sales in America are causing an ammunition shortage. New shooters, economic uncertainty, possible legislation, and fear of political unrest have led to skyrocketing background check numbers, a key indicator of gun purchases.
According to the
National Shooting Sports Foundation
, 21 million firearm sale background checks were completed in 2020, eclipsing 2019's 13.2 million by 60%. The previous record was set in 2016 with 15.7 million background checks. An estimated 8.4 million purchases in 2020 were first-time buyers, with significant increases among
women and African Americans
.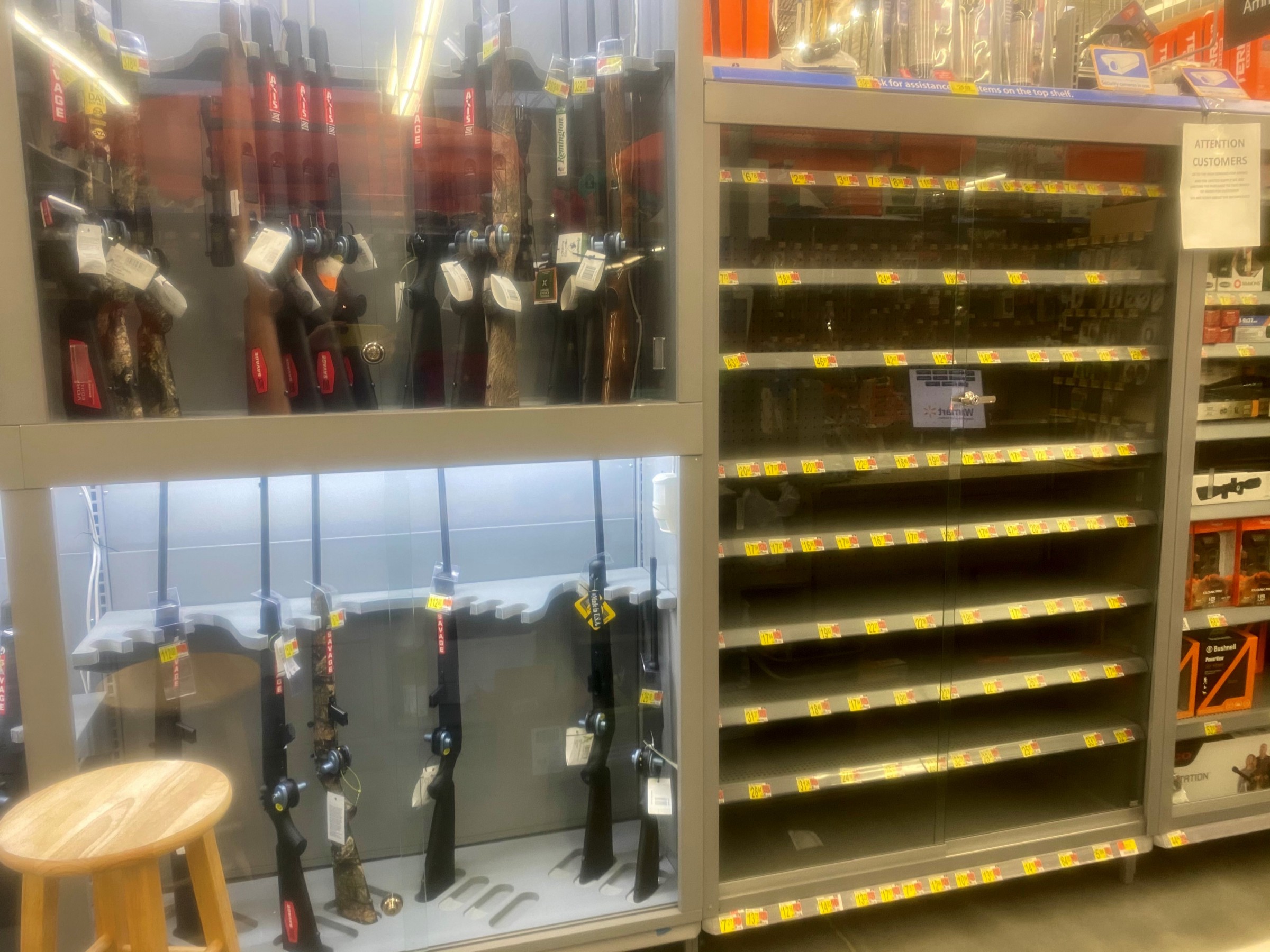 Bare ammunition shelves at Walmart in Salem, Oregon. March 2021.

Neil Christensen at
Gun & Boot & Gear
in Astoria, Oregon, is among the small business owners facing the trend in supply issues for the firearms industry. He's seen a continuing rise in demand, particularly for popular calibers, during the past decade. Christensen said turmoil pushes sales on guns and ammo, and
this past year
was rife with it.
"I would say it all really started with the civil unrest, when there started to be Black Lives Matter protests," Christensen said. "Then it kind of bled into COVID and it just continued on through."
While Christensen hasn't put limits on purchases, many other retailers are restricting how much ammo customers can get, even at big box stores. One problem with supply is so-called
ammo scalpers
, people who make purchases at brick-and-mortar stores and sell online at high markups, artificially inflating the market. With in-store deals as one of the few tactics left to combat the online market, rationing sales is a way to ensure
customers keep coming
.
High school clay shooting team
Seaholm's teammate, eighth-grade student Kennedy Moncrief is a first-year shooter on the
Tillamook High School Clay Target Team
. She's been practicing for a couple of months in anticipation of the spring season, but that's been complicated by a lack of ammo, which also forced a delayed start to the season.
Team members expect to shoot a box or two of shotgun shells for training (25 shells per box, or what competitors call a round), which is typically once or twice a week. Even with a shortened season under the pandemic, Moncrief needs around 250 shells for practice. She hasn't been able to secure any of it yet, and can't find anywhere to order it either, just like many of her teammates.
"Every time we go to practice, we just cross our fingers and hope they have it," said Katie Moncrief, Kennedy's mom. Kennedy added that she's missed a few practices to help conserve supplies for the competitive season.
"I'd definitely like to get more practice in," Kennedy said. "I like seeing my improvements from the first time I ever shot to where I am now … I like seeing my growth in shooting."
A dancer and volleyball player, Kennedy said shooting compares to other sports in that it requires a level of skill and athleticism, and also frequent practice, in order to advance and compete. There's more to it than swinging up a shotgun and squeezing the trigger.
A returning member of the clay target team, Seaholm is a ninth grader who joined the team at its inception in 2019. She doesn't recall having any trouble getting her ammo for that first season. Until the pandemic, she was still training at home and going to the gun range as well, back when it had ammo.
"Me and my mom look daily to find ammo," Seaholm said. "It's definitely been hard; I haven't been able to practice as I would like to prepare for the season. I just hope that it won't set us back any farther than it already has. We're trying our best."
Seaholm's friends are scrambling, too. And they're relying on each other, the way teammates do. When one of them does find a supply of shells somewhere, they try to tip each other off, so that everyone has a chance to get a little. Competition season is coming up fast, and more training is what they all want.
"I love this sport," Seaholm said. A cross-country runner and ballet dancer, she also drew comparisons to other athletic fields, saying shooting takes coordination, arm and upper-body muscles, and plenty of practice.
In light of the ammo shortage, one non-shooting training exercise Seaholm got from her coach is finger-tracking falling leaves the way she would follow a clay pigeon with her shotgun. Another one has her practicing opening the weapon, closing it as if during the loading process, and imagining the clay target and subsequent shot.
"I'm really excited for the season," she said. "Everybody is working so hard to make it happen."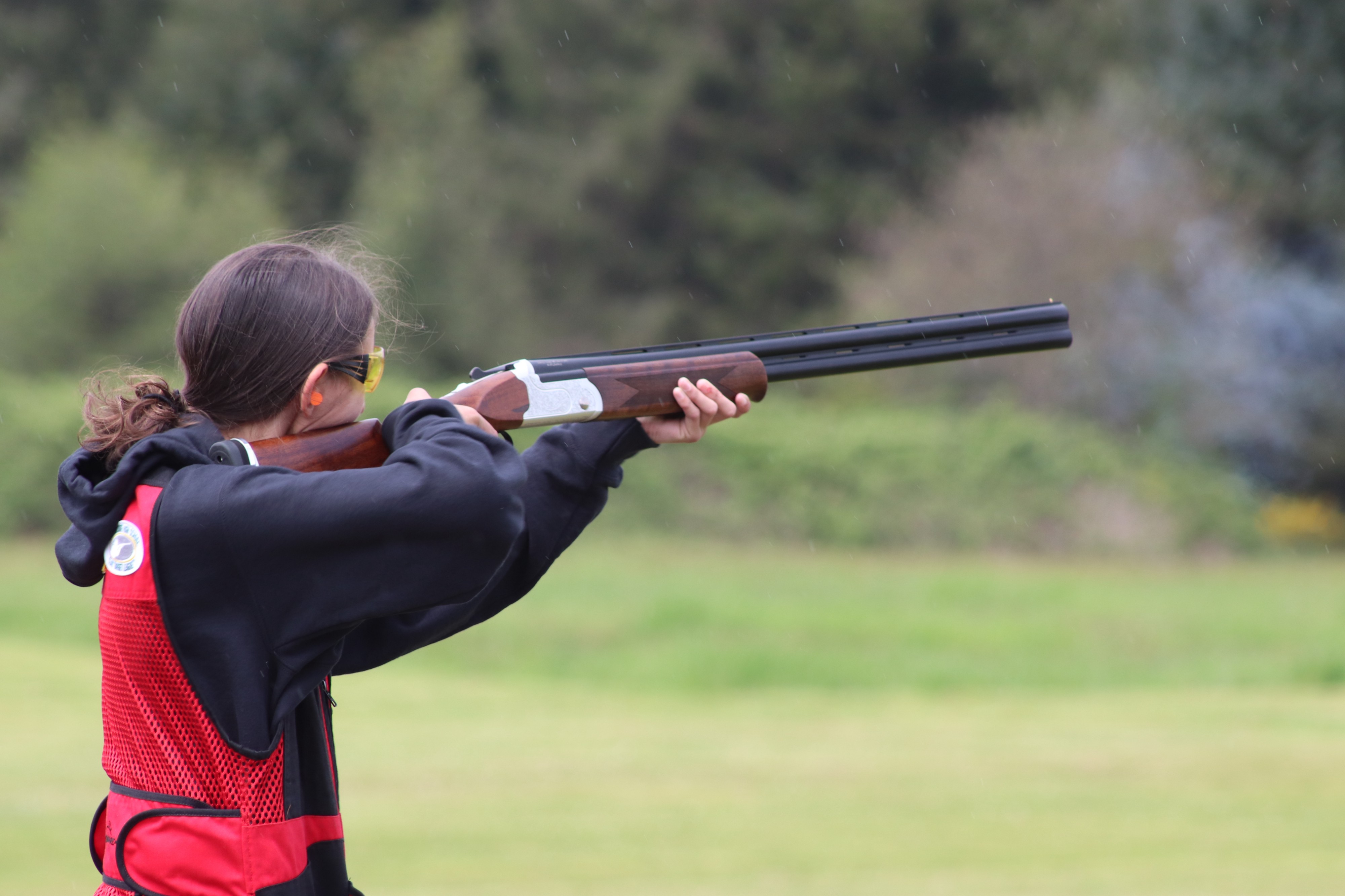 Dannika Goss takes aim and fires at a clay pigeon during practice at the Tillamook Gun Club.


Ninth-grader and returning shooter Dannika Goss noted that 2020's season was a bust because of the pandemic, which struck the U.S. as spring sports were right around the corner. In 2019 though, Goss competed at the state level with the team, and she was a state ambassador for the sport.
Goss is another shooter who's lacking a proper supply of shells for the season. She never had an issue finding enough before, but now she's forced to limit her training sessions and how much she uses up at once. The wider impact of the shortage also has Goss concerned. She's become a dedicated trap shooter and she knows without a steady, plentiful supply of shotgun shells, the whole season is in danger.
"I would be practicing more, but I know that ammunition is low, and so I really need it for competition," Goss said. After all, who knows what'll be available a month from now? People are already buying half-boxes and even smaller amounts. Anything they can get.
A busy three-sport traditional athlete, Goss plays volleyball, basketball, and softball. She's familiar with the concepts of working hard and practicing regularly because nothing worth doing is easy. Ammo shortage aside, she's dedicated to trap shooting and wants to go farther in the sport. The biggest challenge this year might be doing that when shells are so scarce — there's been none to find when her parents go searching in Portland, and nothing can be ordered or held. First come, first served.
Pointing out the prohibition on hand-reloaded shells for competition, Goss said she would support allowing them, particularly since the supply of factory shells has dried up.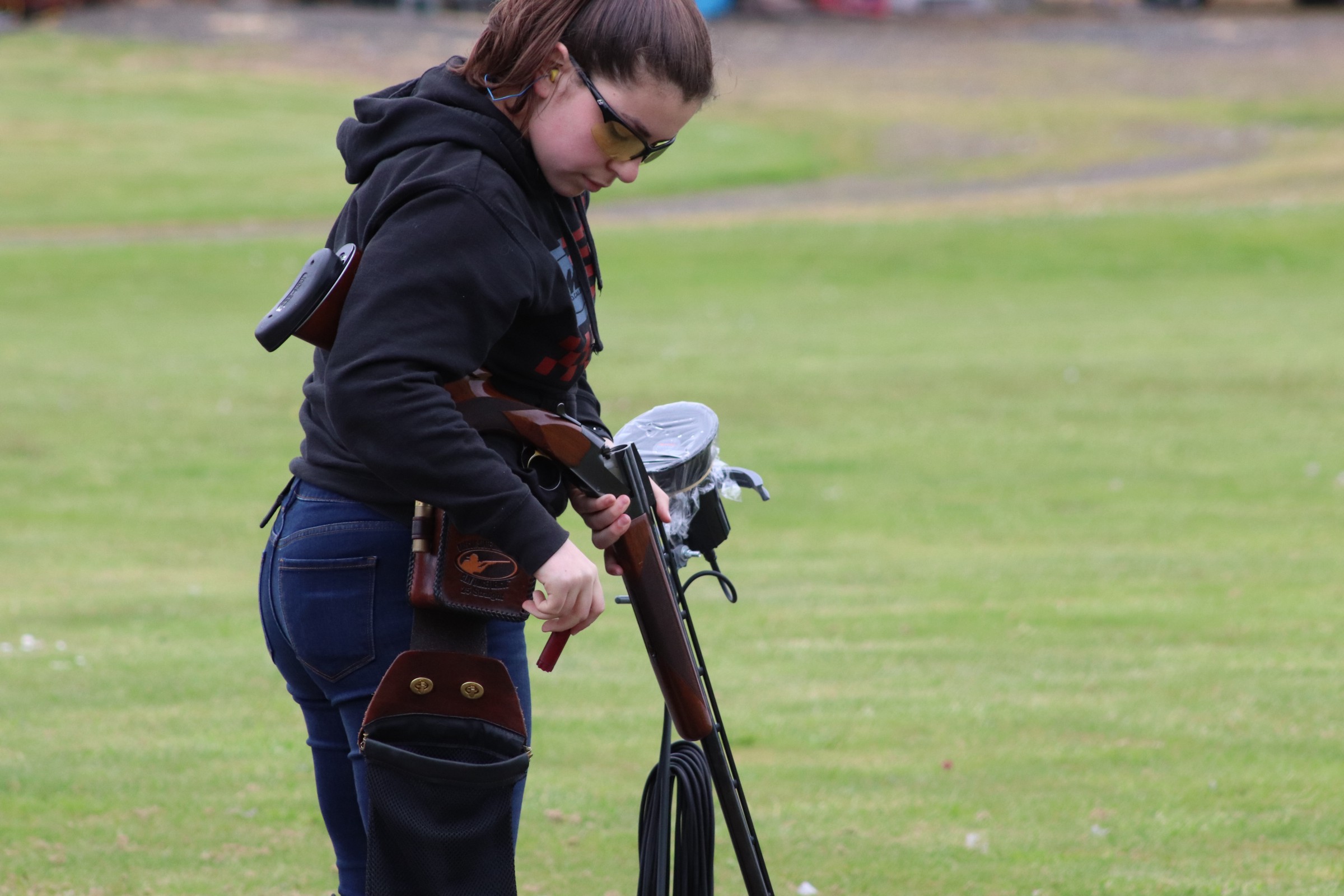 After shooting, Charlotte Phillips collects her empty shells in a bag on her hip for later reloading.

Charlotte Phillips is also in the ninth grade and returning to the clay target team. She shot black powder guns competitively before getting into trap shooting, and she competes in the
Western Regional Independent Trap Association
(WRITA) as well. She estimated needing 24 boxes of shotgun shells just for the school league, and another 54 boxes for the WRITA season, which is longer but also allows for hand-reloaded shells.
"I've been lucky that I've been able to get the things I need to reload for the WRITA events," Phillips said. "But I do not have ammo currently for the high school league because for the high school league you have to shoot factory loads. I typically reload shells, so I don't have any factory loads right now."
Phillips gave a "yes and no" on whether the high school league should be allowed to use reloads. She understands the safety issue, but when you shoot as much as she does, it gets really expensive unless you're reloading the rounds you use.
"I didn't start reloading until the pandemic started; I was shooting factory loads up until COVID hit and the ammo shortage happened," she said. Before that, she said it wasn't an issue at all.
The shortage is starting to hurt for Phillips, who said her scores are dipping down the less she shoots. In the past, she would hit the range twice a week and run through two to four boxes of shells at a time. That dropped to about half, and then it stopped altogether a few months ago when practice ammo ran out, leaving only precious competition shells.
The dry-spell was broken recently thanks to gifts from strangers via social media. After scouring the stores and looking online and coming up empty-handed, Charlotte's mom Rocky made a desperate plea on Facebook that was then shared by an extended family member in the Hillsboro area, resulting in three generous shooting enthusiasts offering donations of 500 primers for reloading (a hot item on the market) and 10 boxes of loaded shells. It couldn't have come at a better time.
"It just floors us as parents because it's been a real struggle to keep her shooting," Rocky said. "It's not an easy sport to be in because it's expensive. Before the pandemic, ammo was anywhere from $5 to $7 a box, and when you multiply that by however many weeks there are in the year, that's why we started reloading."
It's worth the effort and the money to Charlotte. She values the time out of the house, the stress relief, the social engagement — it's like a big family at the gun club. And when she's shooting, she's able to focus on the sport and forget about her worries for a while. For her, it's as much a mental game as it is physical.
"I plan to continue shooting trap through high school and hopefully in college," Charlotte said. "I've met the coach from Eastern Oregon, and he told my parents if I stuck to shooting, there's a spot for me on the team, and it's my spot to lose."
Coach struggles to supply team
Steve Schwend is the head coach for the Tillamook High School Clay Target Team. He said the team budgeted $3,000 for the specific shotgun shells the team needs to train and compete this season, but there was nothing out there to buy, and rules prevent the use of reloaded ammo for safety reasons. Schwend also attributes the ammo shortage largely to national civil unrest and the fear of a social collapse.
There are some workarounds to training without ammo — dry-firing drills, practice ammo and lasers are increasingly common. But there is no replacement for the muscle memory and reaction development of live-fire training. Alternatives to shooting come with a cost as well, which is a burden for school teams like Tillamook's.
"We've got orders in with all the local gun dealers and ammunition suppliers, and they just kind of laugh," Schwend said. "They're like 'we can't even get our hands on it.'"
Ed Flinter at
Beaver Firearms and Grocery
in rural Tillamook County is one of those local dealers trying to help the Tillamook shooting team. He saw sales spike when the coronavirus pandemic began, which he mostly chalked up to increased unemployment benefits that gave people more money than they would typically earn. It escalated when the protests and riots kicked off, Flinter said.
Just as happened with toilet paper when COVID-19 broke, Flinter said the panic buyers saw ammo shortages trending in the media, inspired by chaos in the cities, and they cleared the shelves everywhere. And it's not just the recreational shooting enthusiasts who are out of luck, law enforcement agencies are also caught up in the shortage, struggling to find ammo for training.
Law enforcement training is impacted
Detective Sgt. Nick Troxel,
Tillamook Police Department
, ordered 7,000 rounds of 9mm for shooting range practice in August of 2020. The shipment didn't arrive until April 2021 — eight months later. He's been the range master for the department for more than a decade and he's never had a problem getting ammo orders filled, usually keeping from 6,000 to 10,000 rounds on hand for eight to 10 officers to train.
The department provides all the ammunition for both training and duty, and uses shotgun slugs, buckshot and .223 rifle ammo along with 9mm. Luckily, due to a previous over-order, TPD hasn't had to order the other types of ammo this year, as they are equally scarce right now.
With the new budget cycle starting in July and no sign of the shortage ending, Troxel is planning to place another order as soon as the funds are available, knowing it could be months before he sees delivery, and that's if anyone is still accepting orders at that point, as backlogs grow longer by the day.
Troxel said the vendor the department uses for ammo attributes the shortage in part to limits on production stemming from coronavirus pandemic safety mandates that restrict the number of employees allowed in facilities. Troxel questioned if there isn't a way to adapt and overcome, giving the local school system as an example of problem-solving to reopen operations.
To stretch what they do have, TPD has been discussing training alternatives. There are a variety of options: lasers that monitor dry-firing techniques, video simulator systems, and simulated ammunition are growing in popularity, for example. In Tillamook, they are considering conversion kits for their pistols that would allow them to fire .22 rounds, which are cheaper and more available. The drawback is the training isn't the same, which could affect how prepared officers are in the field.
"Thankfully, we placed this order back in August, otherwise I think we would have been in a whole other world of hurt at this point," Troxel said.
As it stands, TPD has had to get creative with training scenarios and reduce the frequency of range visits. An April training session would have looked fairly different if that ammo shipment hadn't finally arrived. Faced with a bare-bones training budget, getting high-tech equipment is unlikely, and there is a long waiting list for state-owned simulation technology that departments can borrow.
Troxel confirmed that the ammo shortage isn't affecting what officers carry on duty, which comes from a separate stock that is sufficiently supplied.
"We try to shoot at least once a month, if not every three months we're out shooting, and just haven't been able to do it," Troxel said, adding that the last training occurred this past fall. "We're way overdue."
Manufacturing issues at root of shortage
Perhaps the biggest issue though comes from the top — suppliers are scrambling to fill orders. Christensen said some orders that would normally take two or three months now take upwards of nine months to fill.
Wholesalers fill some gaps, but often with strings attached on purchases, such as buying a certain firearm or other ammo as part of an order. And then there's the pop-up online businesses including the ammo scalpers. Business owners have to look everywhere these days. Christensen said he's gone from having a third of annual sales as backordered ammo to having triple the total sales in backordered ammo.
"It has definitely been a challenge," Christensen said. "I could pay my house off like 17 times with the amount of ammo I have backordered."
Manufacturers are battling to keep up, reportedly producing
record amounts
to feed consumers. But logistical issues with raw materials, such as with black powder produced in Australia — which suffered terrible wildfires this past year, and where dock worker strikes affected shipping — are hitting every aspect of the industry. From aluminum shortages due to changes in recycling to the regulatory ban on
lead foundries
in the U.S. (recycled lead must be used), any single thing could jam up the supply chain, let alone the combination of so many hindrances.
Christensen is hopeful the ammo shortage trend won't last beyond the next two years. He doesn't think it's a long-term problem, but extended demand could reshape the economics of the ammo industry. He said the heavy demand should lead to increased supply, but the logistical challenges must be overcome.
Federal, CCI, Speer and Remington President Jason Vanderbrink posted a
YouTube video
regarding the ammo shortages in December 2020. In the video, he said he was tired of harassment and conspiracy theories, and that his companies were hard at work to produce ammo — an estimated 700 million rounds desired by the market.
"It takes months to train people … you gotta get the raw materials, and on top of that all, we're dealing with a pandemic," Vanderbrink said. "Please squash the rumors; you don't have to believe everything that's out on the internet … we are doing everything we can to meet this demand."
Vanderbrink recently announced the return of a major Remington ammo plant in Arkansas. The lack of production at the plant, one of the largest in the U.S., contributed to the overall supply chain problem, according to
American Rifleman
.
Jason Hornady of Hornady Manufacturing Company also released a
YouTube video this
past December. He said the company produced a third more than in 2019 to meet the "over-demand" on ammo. Hornady also denounced conspiracy theories and rumors about the ammo shortage. Hornady said despite efforts to increase capacity, production is simply maxed out.
"We promise we are shipping everything we can," Hornady said. "The stuff that goes out today was literally put in a box yesterday."
But some kinds of ammunition aren't being made at all. In the hustle to keep the popular rounds popping, less used or specialty types are being squeezed. The time it takes to recalibrate machines is money lost. And why gamble on a possible sale when you have a sure thing?
The president of specialty ammo manufacturer Black Hills Ammunition, Jeff Hoffman, recently gave an interview to
Outdoor Life
in which he noted that the government is among those competing for the limited supply of bullets on the market. Hoffman supplies the government, commercial stores, gun companies, and law enforcement. But the military orders have the ultimate priority.
"We're not only morally and ethically bound to take care of the military, which I feel we are, but we're contractually obligated to take care [of those orders]," Hoffman told Outdoor Life. "The military has preferences along the way. So, there is some level of competition over machines with this stuff."
While Hoffman said his company, which does the majority of its business with the military, hasn't seen a surge in military ammo purchasing, he acknowledged that it doesn't have the capacity to answer the call for more civilian product because Black Hills is dedicated to fulfilling its government contracts, despite the possible temptations of the lucrative commercial market in its present condition. Hoffman also scoffed at rumors that manufacturers are sitting on their supplies to drive up prices.
"I'm not wishing to insult anybody, but people who think that way have never really been in business," Hoffman told Outdoor Life. "They don't understand how economics and capitalism work. We're in business to sell stuff."
Meanwhile, back on the range in Tillamook, the student athletes of the high school trap shooting team will continue treating every round of 12-gauge ammunition like a precious commodity, and making sure every shot counts.