---
Portland's Surge in Graffiti Marks Tension in the City
Train tracks on the east side of the Willamette River. This area typically hosts graffiti, and more parts of the city are beginning to have a similar appearance. (taken by Serena Khader, March 2021)
By Serena Khader
Website
May 5, 2021
Portland, Oregon has seen a nearly 400% swell in graffiti reports in just the past 8 months, according to the Office of Community & Civic Life. In response, the city's Graffiti Program has had over a 100% increase in spending since July of 2020, equating to over $172K spent on graffiti removal.
"The city has changed dramatically, in a lot of ways over the last year or so. There's more graffiti, the protests caused the destruction of public properties, there are boarded-up businesses, there are more homeless or houseless people camping on the street, so it's changed a ton," said Deputy Kiah Gravel, from the Washington County Sheriff's office.
Robert Barrie of Portland Graffiti Removal, LLC attributes the increase in graffiti to the pandemic, given the increased number of vacant properties which attract more graffiti. There are also fewer companies doing removals for the city of Portland, in addition to the budget cuts in the police department, according to Barrie.
Those budget cuts are outlined in the City Budget Office's Portland Police Bureau Budget Details and Changes, where the Mayor called for almost $12 million in reductions, almost 6% of the existing budget.
Due to the pandemic, cities across the United States are experiencing an uptick in graffiti. Portland is no exception, with some taking to the streets with cans of spray paint to express their feelings about the resurgence of the Black Lives Matter (BLM) movement and the Portland police.
The Steel Bridge, now tagged with a number of Antifa, ACAB, and anarchy-related tags. This bridge is traversed by bikers and pedestrians day and night. (taken by Serena Khader, March 2021)

Things to note: ACAB and BLM tags


While the city works to clean the streets and walls of Portland, some Portlanders continue to mark their dissent through BLM and ACAB graffiti, which is found in plenty on the streets. Some Portlanders continue to push for the abolition of racist systems that continue to disadvantage BIPOC citizens and ask for the defunding of police.
While Gravel discourages all unauthorized graffiti in the city, he does support the intentions behind the BLM movement. "As an African American, I'm like, for sure, as long as it's used as what it's supposed to be," said Gravel. "And there's a middle ground right to anything - I imagine there are people who are affiliated with the BLM movement with really viable, legitimate ideas and reasons to be there and be working toward those goals. I think that there's some legitimacy to African Americans asking questions about their treatment in law enforcement."
Tatiana Nguyen, a social worker residing in Portland, said that BLM gives meaning to the brutality and unseen violence experienced by Black people daily, while ACAB speaks more closely to the complicity of every police officer in a system that actively devalues the lives of people of color.
"People are going to tag, especially in a city and community like Portland that is seemingly progressive but has a very racist history and undertone. Seeing anti-cop, political, or BLM graffiti is a reminder that this place is not perfect. It's definitely a white utopia. It has historically been, and it still is, despite how many people say that they're on the right side of history," said Nguyen.
Nguyen isn't alone in feeling comforted by the presence of graffiti in the city.
James Dixon, a film director and member of the Black and queer communities, said "I've seen a lot more than ACAB signs around town, and it actually makes me feel comfortable because that means there's somebody in my neighborhood that doesn't like cops. Visually seeing that is helpful in such a white city. It tells me there are people out there watching these motherf — — s, I've seen them watching. When cops pull folks over and engage with them, people are stepping up more."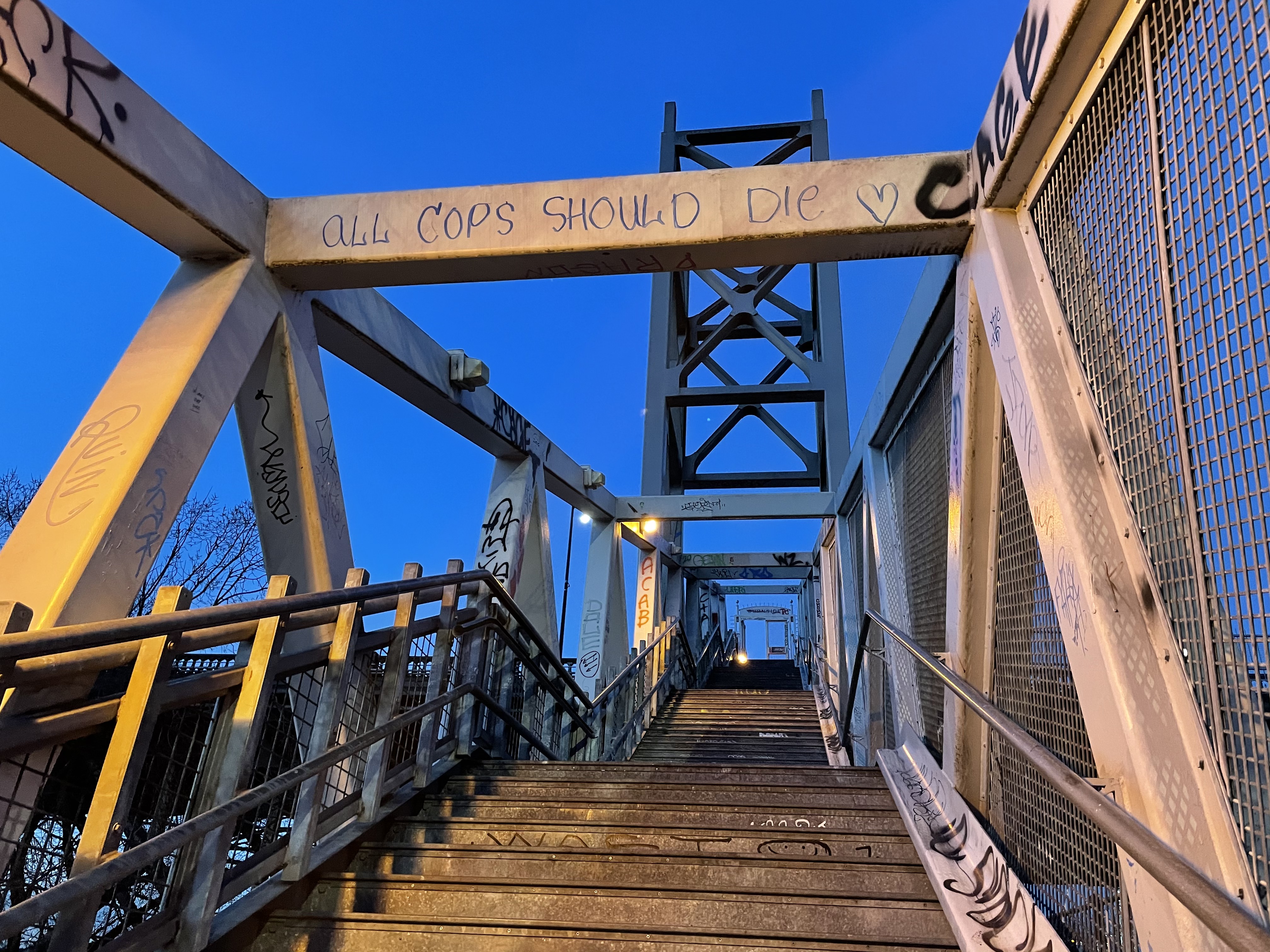 The steps from Burnside Bridge down to the Eastbank Esplanade. Months and months of graffiti are layered onto these stairs, including ACAB-related and BLM-related tags. (taken by Serena Khader, March 2021)
Portland Police buildings have been a consistent target for graffiti, an expression of some Portlanders' disagreement with the way the Portland Police Bureau has been interacting with the city.
"When we see things written on the building, it's certainly hard to see, and it can be disheartening. But I also understand that there's a larger discussion happening in our country about what policing should be and what it should look like, what law enforcement should be, larger issues of systemic race and racism in our country," said Sergeant Kevin Allen, a Portland Police Public Information Officer. "This is people expressing how they feel about that situation, but I wish that they would express their feelings in a way that does not cause damage to people's property."
In response to tags like ACAB and F — K 12 tags found in abundance around town, Gravel mentioned that it's difficult to start a conversation from graffiti alone and encourages those that do have feedback to come to the table and participate in productive discussions.
Daniel McArdle-James from the Office of Community and Civic Life noted that the city isn't actively taking down or covering up BLM-related graffiti unless expressly requested due to disruption of businesses, as long as the art isn't hate-based or political.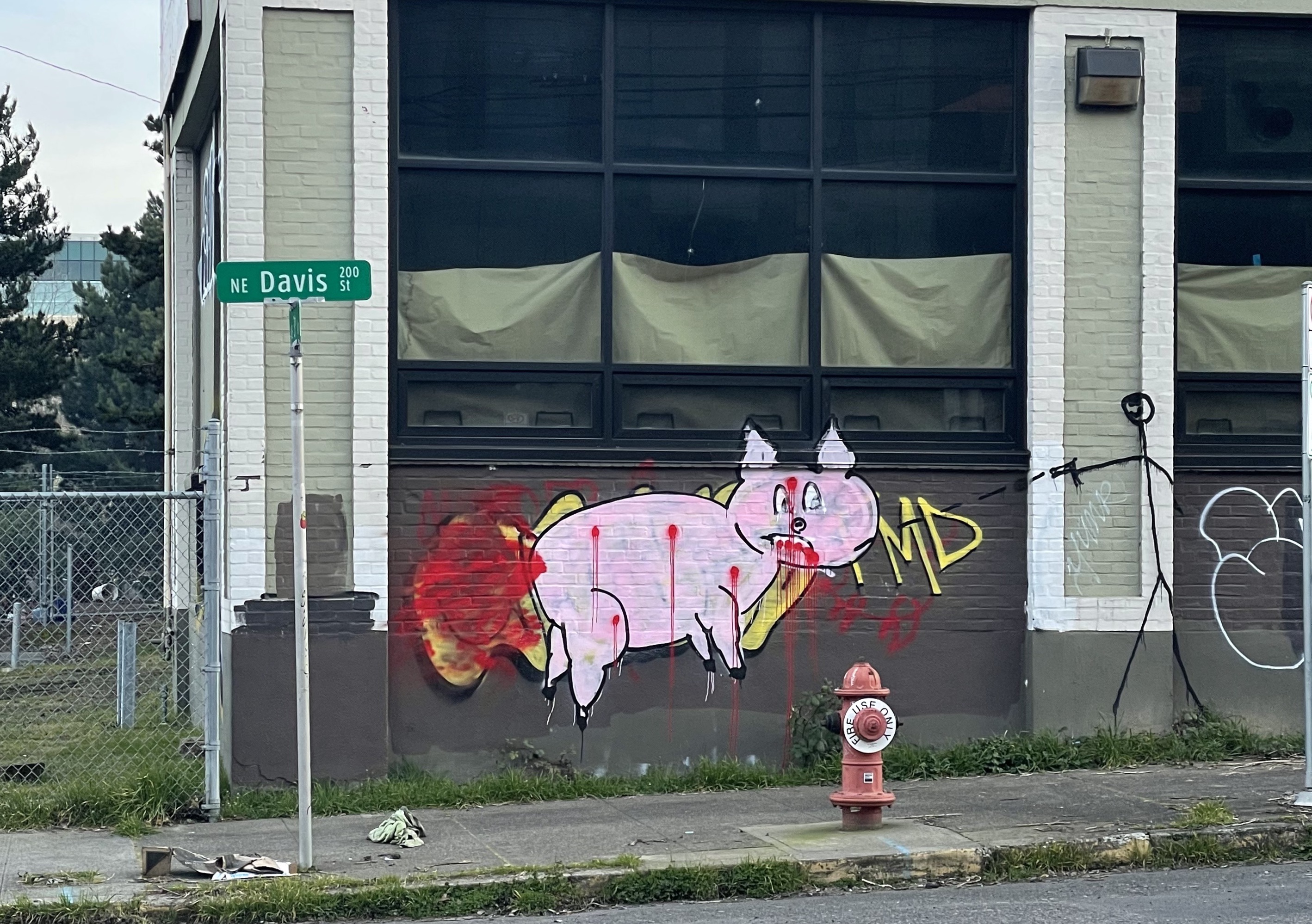 Unauthorized graffiti on a building right off of MLK and Burnside in East Portland depicting a pig getting shot. "I personally don't like the idea of violence. However, it's not up to me to gatekeep how other oppressed and marginalized people respond to excess police violence," said Nguyen. (taken by Serena Khader, March 2021)
Graffiti is a reminder
Graffiti on the streets serves as a constant visual expression of some Portlanders' feelings, although what's important is the discussion of how Portland will move forward and evolve.
"The more popular discourse for defunding or abolishing the police is that we implement social workers, we create more opportunities for counseling and rehabilitation, and we teach people how to de-escalate and do crisis intervention," Nguyen said. "A lot of it is reminding yourself that a new world is possible. A lot of it is just focusing on the here and now, what steps can be made to retract police presence, hold the police accountable for their actions."
On the Eastbank Esplanade, there are a series of anti-cop sentiments smattered across the sidewalk and most visible structures. This is an example of something more creative beyond the classic ACAB, FTP, and 1312 tags that are more common in the area. (taken by Serena Khader, March 2021)


The Portland Police are aware of these narratives and ideas for what Portland should look like for its citizens in the future, and are working to respond and grow alongside the rest of the city.

"We have to pay attention to people that have something to say about policing because policing is not supposed to be imposed on anyone. Policing is supposed to be a function of our larger community. And we want to be the police department that people want, and we have community support, we cannot do our jobs without community support. So whatever that may look like, you know, we want to be that for them," said Allen.

And Allen isn't alone in his feelings about how special Portland is and the citizens' ability to come together.

"The thing I really love about Portland, it has such a heartbeat to it, it's just a big, small town. I feel that people still talk to each other, gather more, and try to build a sense of community in a town like this," said Dixon. "And it makes me feel really great to know that there are white folks out there that understand a little bit of what we're going through and actually want to see something done about it."

The city's Graffiti Removal program is easy to volunteer for or send removal requests to, all accessible on their site. The city also supports public art murals and environmental design as alternatives to unauthorized graffiti.

Transparency Box: I chose this story because I live in Portland and have noted an increase in graffiti, especially in previously well-maintained areas of the city. When more graphic images expressing anti-cop sentiment started to appear near my apartment, I got to be really interested to learn more about the tensions in the city and the trend of graffiti as an expression of those frustrations. I chose a hard news lead simply because the facts from the city's Graffiti Removal program set me up well to draw the reader in with a stark statistic and then bring some context to the story later on. To learn more about the subject, take a stroll around Portland and note what you see! Please feel free to reach out to me at serena.khader@gmail.com with any questions or comments.