---
Preserving the Past:
Bringing Oregon's fossils online

Dr. Greg Retallack shows off a piece of fossilized wood from the Condon Collection. The fossilized wood has yet to be added to the digital platform.


Dr. Greg Retallack's office is filled with the remains of Oregon's past. Cardboard lids line his desk and pile high on a table by the window, each filled with fossils, some no larger than his hand.
He pulls a shiny slab of petrified wood from a Sysco box lid. From a Boise lid, he picks up a fossilized clam.
"Almost everything is irreplaceable," said Retallack of the fossils, which are part of the University of Oregon's Condon Collection.
Retallack, the director of the collection, research associate Eric Gustafson, and volunteer Barry Hughes are working to make the Condon Collection searchable in an online database. The Condon Collection consists of the personal fossil collection of Thomas Condon, the University's first science professor, and specimens that have been added over the years.
Condon began collecting the fossils when he arrived in Oregon in the mid-19th century. When he passed away the collection had about 2,500 specimens. Today, Retallack estimates the collection holds 60,000 specimens.
While Condon's collection is getting along in age, University of Oregon researchers are intent on keeping it around.
"It's kind of like, why is it important to keep the Mona Lisa?" said Retallack, who serves as director of the Condon Collection of fossils, "Well, it's the only one."
The digitization project is ongoing, with about 90% of the fossils cataloged so far. The cardboard lids in Dr. Retallack's office hold specimens that still need to be cataloged. Eventually, photos, taxonomic data and approximate excavation locations for each fossil will be available on the Museum of Natural and Cultural History's website via a searchable platform called
Specify
.
Putting the collection into Specify is helpful to University of Oregon researchers, as it keeps records consistent and easily navigable, unlike the card files used to organize paleontological collections in years past. It also circumvents the risk of these card files being lost or damaged as they age.
Online access to the collection also opens Condon's findings to the world. Amateurs and experts alike can search the database. Often, Retallack said, international researchers will see a fossil of interest on the site and request to visit the university for a closer look.
Retallack said he enjoys having visiting scientists come by to study the fossils, especially when they join him and his wife for dinner afterward.
The collection includes the remains of prehistoric mammals, marine fossils, rocks and minerals. Researchers are constantly adding specimens to it and donations keep coming in from around the world. Retallack said recent donations include ammonites from central Oregon, fossilized wood and trilobites from Morocco.
University of Oregon researchers have also made contributions to the collection. Ph.D. candidate Paul Barrett has added several specimens over the years. His most notable contributions include sets of carnivore teeth and a toe bone from the first dinosaur identified in Oregon.
The collection's breadth makes it a valuable scientific and educational resource. A few specimens are housed at the Museum of Natural and Cultural History, while the majority are kept in the basement of the University's Pacific Hall. Many are used in research about Oregon's prehistoric flora and fauna.
Dr. Dana Reuter, University of Oregon earth sciences graduate, said it is important to keep archival materials like Condon's original fossils, even if the standards for recording data have become more rigorous since his time.
"Even if something isn't necessarily the best specimen, or maybe data was lost about it, you can still get a lot of information out of that specimen," said Reuter.
Things were certainly different when Condon arrived in Oregon in 1852. Today, excavation sites can be pinpointed with exact GPS coordinates on a phone or tracking device. Condon had a pencil and a notebook, maybe a compass.
A devout Presbyterian reverend with a fondness for geology, it is often said that Condon kept a pickax in one hand and a bible in the other. He excavated thousands of fossil specimens during his time in the state.
Teaching had long been one of Condon's passions. When he wasn't preaching, he could be found giving lectures on Oregon's natural history to the lay public even before becoming a university professor.
"His interest was in helping all of those people understand what the world around them looked like, the natural world," said Jason McClaughery, Eastern Oregon Regional Geologist.
Condon's legacy manifests in several tangible ways.
His book on the geologic history of Oregon, "The Two Islands", remains an influential scientific resource. Condon Hall at the University of Oregon bears his name, and so does the visitor's center at the John Day Fossil Beds. Oregon State University holds the annual Thomas Condon lectures, which is given by scientific researchers looking to explain their studies to a lay audience. Soon his collection will be accessible online for the world to see. Anyone with an interest in fossils, not just paleontologists, will be able to sort through pictures and data from Condon's fossils.
While most of the collection is safely filed away, there are a few specimens on public display at the Museum of Natural and Cultural History in an exhibit dedicated to his work. Their identifying numbers, painted in bright yellow by Condon himself, are faded, but still visible.
Digitizing the collection with photos and identifying information is just one way to increase the reach of the collection. Barrett said he is hopeful that one day, 3D models of each specimen will also be visible online.
Barrett created a 3D model of his dinosaur toe fossil through photogrammetry, a painstaking process that involves setting a fossil on a turntable and taking photos from multiple angles. 3D models are accurate enough that researchers can assess and measure specimens without having to travel to see them in person.
"Especially in these COVID times of ours, traveling to museums is challenging to do for a variety of reasons. So having available to you and your home country or institution to download and do your own analyses speeds up the process of the science and is also helpful to the fossils because they don't need to be handled or touched or possibly accidentally broken," said Barrett.
But Retallack said he is satisfied with the work that has been done with digitizing the collections so far. Even without 3D models, the online platform immortalizes the collection for future generations of researchers and fossil enthusiasts.
"We have a lot of fancy instruments on campus…but these fossils will never lose their value. Ever," said Retallack.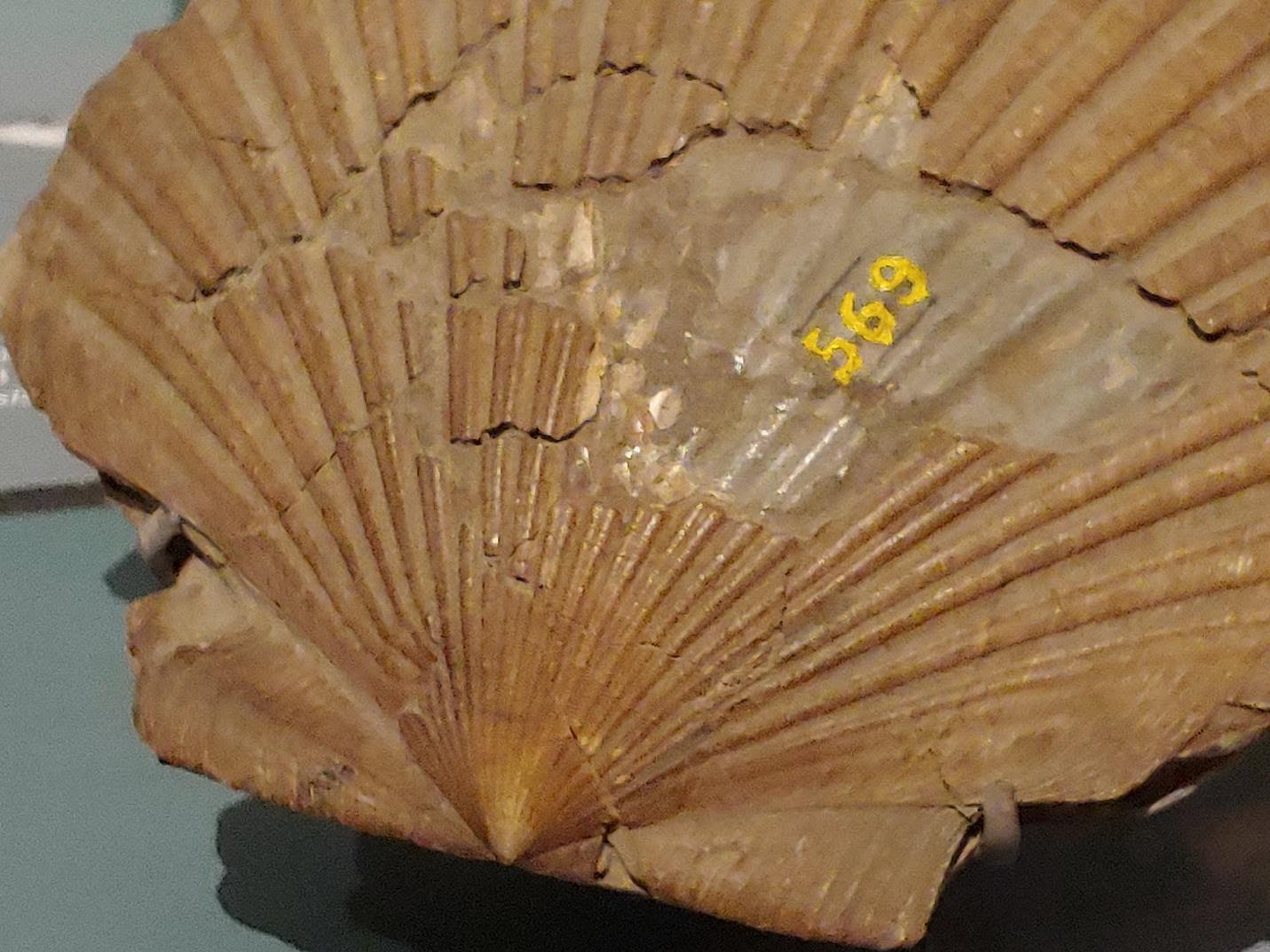 A closeup of a scallop fossil on display at the Museum of Natural and Cultural History at the University of Oregon. The yellow 569 was painted onto the scallop by Thomas Condon, who used the numbers and colors to classify his findings.