---
From Classical to Popular Music and Beyond:
The evolution of the University of Oregon School of Music and Dance

The MarAbel B. Frohnmayer Music Building of the University of Oregon School of Music and Dance stands on Wednesday, Nov. 24, 2021 at the University of Oregon in Eugene. The UO SOMD has been around since 1886 and it continues to impact the community today.


By David Ainsworth

Jan. 7, 2022
As he prepared for his final fall concert as a member of the UO University Singers, Anthony Spreitler reflected on what the group has meant to him.
"You're not just seeing just music performance majors," said Spreitler, a senior at the University of Oregon studying Music Education. "You're seeing people from all over campus who are all united, not by degree but for a love for singing and a love for music."
This commitment to inclusion isn't just limited to the University Singers group. The University of Oregon School of Music and Dance has classes for students of all majors, including courses in audio production and popular songwriting.
Many students aren't majors in these classes, said Brad Foley, who was the Dean of the SOMD for 16 years. In fact, 25% of UO students have taken courses at the UO SOMD, like the popular songwriting course, which over 300 students have participated in.
This was part of a change in the curriculum, said Foley. When he first arrived in 2002, the curriculum was very traditional, with classes such as ear training, music theory and music history. In essence, it resembled what every other music school was doing. Over the years, the music and dance programs evolved, allowing the SOMD to become one of the top music schools in Oregon.
The school now has
several degree options
for prospective music and dance majors including jazz, classical performance, music education, musicology, popular music, audio technology and dance.
"We sort of approached it slowly, trying to make sure it would work," Foley said. "But, as it turned out, our classes have been really well received."
With these changes and more, the SOMD has come a long way since its founding in 1886.
In 1912, Carl Lachmund became the Dean of the University of Oregon School of Music. This was significant, as he was a student of the renowned classical composer Franz Liszt, according to
archives from the New York Public Library
. He had a distinguished career as a music educator and director in Europe and across the United States, eventually bringing his expertise to Oregon.
In 1921, Beall Concert Hall was completed. Since then, it has become the main concert hall for SOMD music concerts and has been acclaimed for its acoustics.
Additional new structures and renovations were completed in the 1940s and 1950s. By the 1970s, major growth happened in the school, according to Foley. More additions to the building occurred as a result.
By the 2000s, the school had so many students and staff that there was not enough room for all of them. Enrollment in the SOMD grew by nearly 150 students in just seven years, according to the
UO website
.
"We had faculty sharing offices. We had students practicing in the stairs, in the cemetery," Foley explained.
To solve this, Foley helped raise the money to add more spaces. The increase in practice rooms and faculty has become vital for the diversification of the SOMD's programs.
"We have many more faculty and more specific focus," said Leslie Straka, Associate Dean for Graduate Studies who has been at the SOMD since 1987. She explained that more faculty were added to fill the role they were most specialized in, instead of teaching several different areas.
However, it's important to note that this is not just a music school. It also has a thriving dance program, which was established in 1911 and officially joined the School of Music in 1991.
The dance program has also evolved, with
degree offerings
in jazz, tap, hip-hop, African, ballroom, tango, swing and improvisation.
With a commitment to inclusiveness and diversity in its degree offerings, the SOMD has created a strong legacy for students and the community.
"Something like 25% to 30% of all the music teachers in the state of Oregon were our graduates," Foley said.
The SOMD has created a legacy that goes beyond education.
"Almost every arts organization of any significance in this state has our alums, from playing in the Oregon Symphony, or the Portland Ballet Orchestra, or every arts group in Eugene, got its start practically in our building," said Foley.
Straka added that students have remained in the Eugene music community beyond school.
"Some students come here and never leave," she said.
Students seem to agree with the assessment of inclusiveness and belonging. Today, under the leadership of Dean Sabrina Madison-Cannon, the future looks bright.
Spreitler, the music education student, agreed.
"I think the legacy of the School of Music and Dance ought to be one of joy," he said. "I have never seen so many people be so happy to make music with other people."
It's this combination of inclusiveness and joy that keeps the SOMD going today.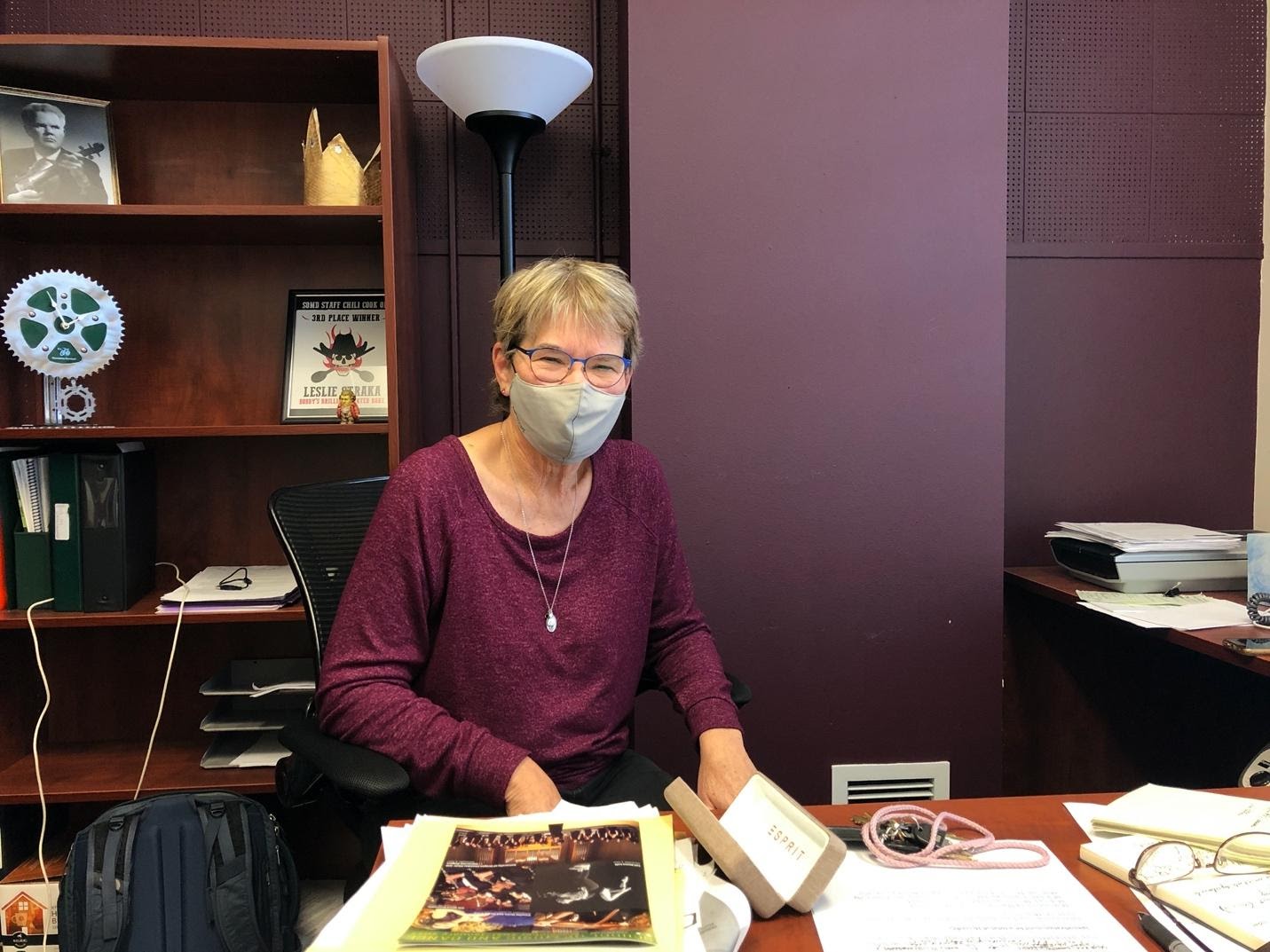 Associate Dean of Graduate Studies and Professor of Viola and Chamber Music, Leslie Straka, sits in her office in the University of Oregon School of Music and Dance on Tuesday, Nov. 16. Straka has been at the school since 1987 and has witnessed many changes to the UO SOMD.